4. - THE MICROPROCESSOR
An important step was in 1971 the microprocessor born of the techniques of great integration. It was going to bring a radical change in the way of designing and realizing electronic devices.
Digital electronics had just switched from wired logic to programmed logic. Indeed, the microprocessor does not provide specific and immutable functions, but acts according to a program developed and then introduced into its memory. It is easy to understand that it is enough to change the program so that it performs another task.
The microprocessor has not stopped since to improve its performances and to see its cost decrease.
Microcomputers using microprocessors are now sold at la carte. The user can thus adapt it to his own needs and add to it the peripherals of his choice (keyboard, video screen or monitor, floppy disks, hard disks, etc ...).
5. - THE MICROPROCESSOR APPLICATIONS
The applications of the microprocessor are innumerable. It is used as a central unit in pocket calculators or in digital watches.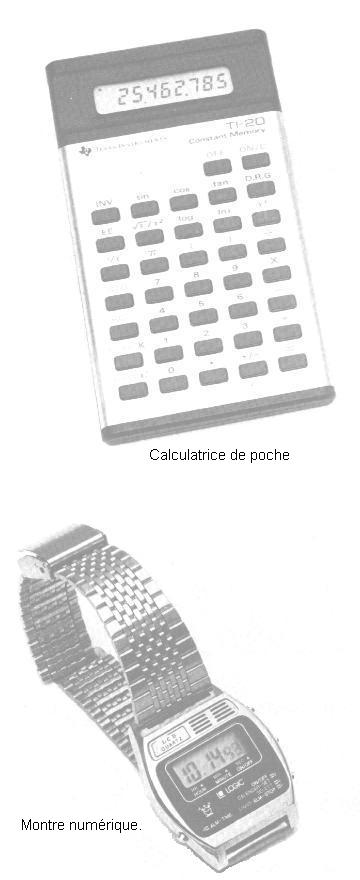 It is found in video games.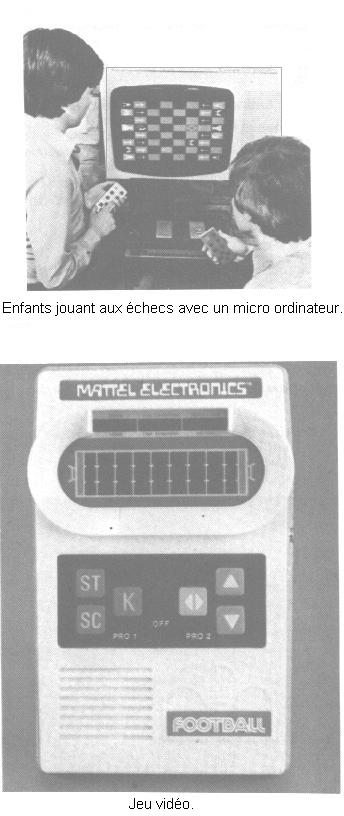 In automobiles, it is more and more often encountered either for engine control or for instrumentation.
Some devices now have speech. The elementary sounds, or phonemes, constituting the speech are put in memory. The microprocessor manages this memory, to output coherent sounds limiting the voice.
Until now, the man-machine dialogue was realized using a keyboard. But there are already systems that recognize speech.
The microprocessor is also used in hospitals to monitor certain patients or doctors for the diagnosis of certain rare or complex diseases.
At the office, the microprocessor facilitates the task of the staff :

he sorts the mail

he draws up bills and pays

it manages inventory and establishes financial forecasts

he composes texts.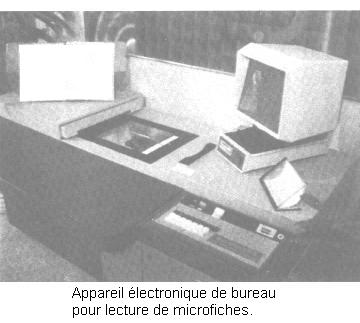 At home :

it allows a more flexible use of washing machines that can be programmed

it controls the operation of the heating for comfort and economy.
At the factory : he manages the manufacturing, he controls, he plans.
In the laboratory : he carries out the most complex calculations, with an unsuspected speed, thus bringing an important aid to the research.
In telecommunications, it manages telephone exchanges and satellite links. In aeronautics, it calculates : wind, tides, current, altitudes and angles of approach to landing.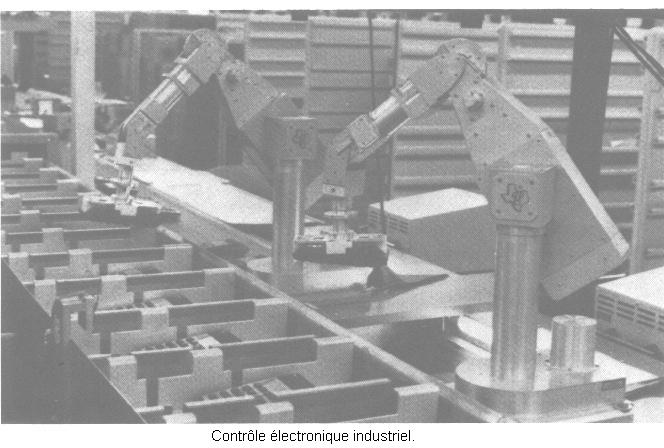 ---


Nombre de pages vues, à partir de cette date : le 27 Décembre 2019


---
Send an email to Corporate Webmaster for any questions or comments about this Web Site.
Web Site Version : 11. 5. 12 - Web Site optimization 1280 x 1024 pixels - Faculty of Nanterre - Last modification : JANUARY 02, 2020.
This Web Site was Created on, 12 JUNE 2019 and has Remodeled, in JANUARY 2020.


---