TTL Logic Integrated Circuits :
SUMMARY : DATA BOOK TTL
NOTE : Some technical sentences or words will not be translated into English to avoid any error, since the catalog already includes technical terms in English ...
In this summary "Data book" which means in French catalog, we will present the most used logic integrated circuits.
1. - CIRCUITS FREQUENTLY ENCOUNTERED IN INDUSTRIAL ASSEMBLY
Bipolar and MOS technologies have so far been the most used in industrial circuits.
Whether for maintenance or implementation, it is important to know not only the technology, but also the inventory of circuits with their function.
Each manufacturer uses codes that it prints on the boxes in order to be able to identify them. It is still necessary to know these codes.
It is the role of Figures 1 and 2 which give the meaning of the naming codes of the TTL and C-MOS logic circuits.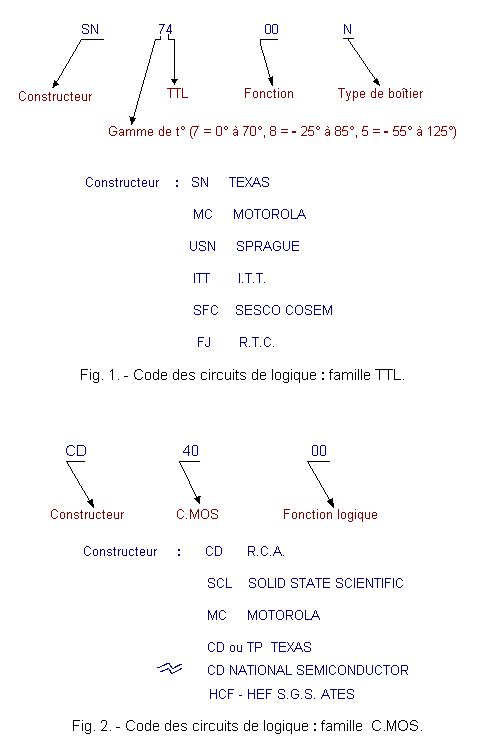 The following two paragraphs respectively provide the functions and the pinout of the TTL (bipolar) logic circuits while the last two pursue the same objectives but in C.MOS technology.
1. 1. - INVENTORY OF LOGIC CIRCUITS : TTL FAMILY


To find out about certain pinouts or their connections to integrated circuits, simply hover your pointer over the links below :
1. 2. - BROCHURE OF LOGIC CIRCUITS : TTL FAMILY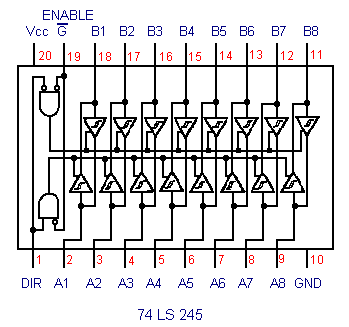 ---


Nombre de pages vues, à partir de cette date : le 27 Décembre 2019


---
Send an email to Corporate Webmaster for any questions or comments about this Web Site.
Web Site Version : 11. 5. 12 - Web Site optimization 1280 x 1024 pixels - Faculty of Nanterre - Last modification : JANUARY 02, 2020.
This Web Site was Created on, 12 JUNE 2019 and has Remodeled, in JANUARY 2020.


---